Alaska Bound 2013
Donnis and Sarah Moore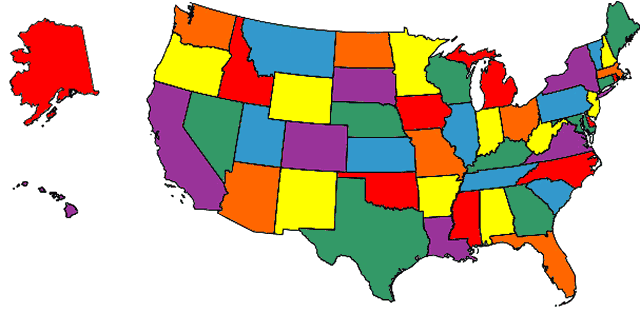 "WE DID IT!! We completed all 50 states on the motorcycle!!"

Preface: These are the chronological events of our motorcycle journey from Livingston, Texas to Alaska. I have written it all out in great detail. Some of the details you are probably not interested in, but I have fun with these journals and include all the tidbits, good and bad, negative and positive, because its the way I like to storytell. Some you will find humorous and others boring, but nonetheless, its all right here.

We have now ridden our motorcycle to every one of the lower 48 states. We flew to Hawaii last year, took a cruise around 4 islands and rented a motorcycle on the island of Maui so we could say we had ridden a motorcycle there. All that's left now is riding to Alaska and that journey has officially begun.

April 27 - Livingston, Texas to Cross Plains, Texas
We left Livingston heading out on our annual motorcycle vacation. We are riding a Honda Goldwing GL 1800 all decked out to our comforts. This will be the first time I have had arm rests and while typing this I can tell you I love, love, love them. We are also pulling a cargo/camper trailer behind us with a newly welded rack on the back of it. The rack is for the extra spare front tire and wheel and extra spare back tire and wheel, plus a 5 gallon gas can. Our past 2 trips we had trouble with back tires going flat so we didn't want to be unprepared this time and also heard about lack of gas stations along the Al-Can Highway so we wanted to be prepared for that as well. We only rode as far as Cross Plains, Texas to visit some friends of ours. We had a good visit and a great meal. We spent the night there.

April 28 - Cross Plains, Texas to Amarillo, Texas
We made it as far as Amarillo, Texas on this day. We were originally going further but the temperatures were the low 90's and we were too warm and too tired to go further. This is where we spent the night.

April 29 - Amarillo, Texas to Colorado Springs, Colorado
We left Amarillo, Texas headed for Colorado Springs, Colorado. The weather started out relatively cool and it warmed slowly all day. When we arrived in Colorado Springs it was 87 and sunny. We were tired, ate some dinner and spent the night.

April 30 - Colorado Springs, Colorado to Casper, Wyoming
We left Colorado Springs, Colorado with our goal today of Casper, Wyoming. Again it was stellar weather and we made it all the way there. It was a great day to ride and the scenery was wonderful. It was 81 when we arrived. Little did we know that was all about to change. We checked into our motel. We could hear the wind pick up and the temperatures dropping. At first there was light rain. Then the 4 letter word of SNOW happened. It snowed 4 inches overnight, covering everything with snow.

May 1 - Still in Casper, Wyoming
It continued to snow after we got up. Since we seldom see snow, it is fun to watch and beautiful but its neither of those when you need to get on your motorcycle and ride. Donnis went outside and took some pictures and there continued to be snow flurries. We decided to air on the side of caution and safety and booked our same room for another night. We are not really on a schedule, so an extra day was not going to make a difference. We stayed in the motel room most of the day. We had wireless internet (what else do you need?), television AND a snack box, so we were set. Here are a few pictures of the snow.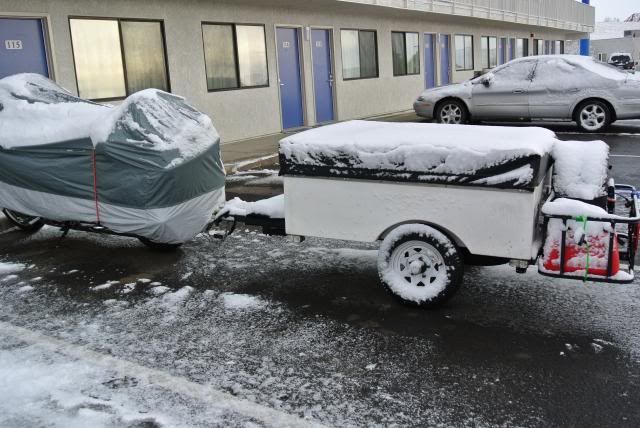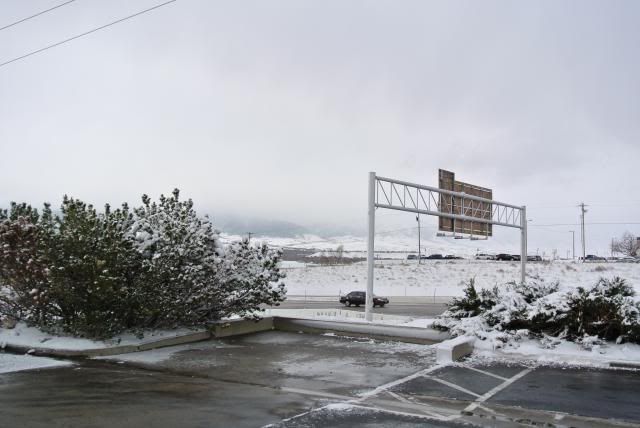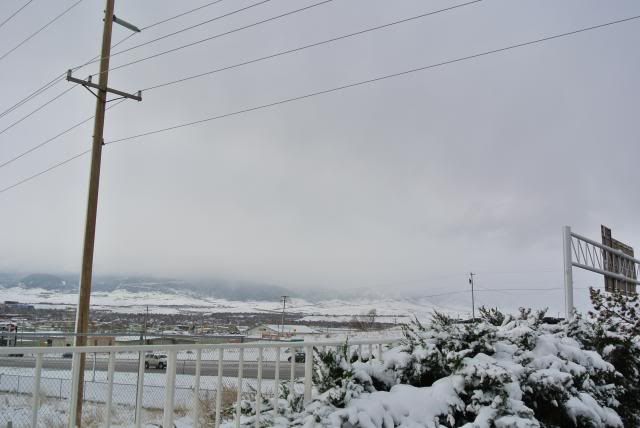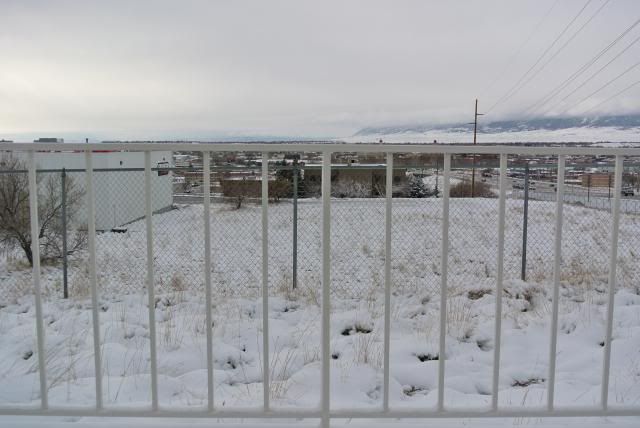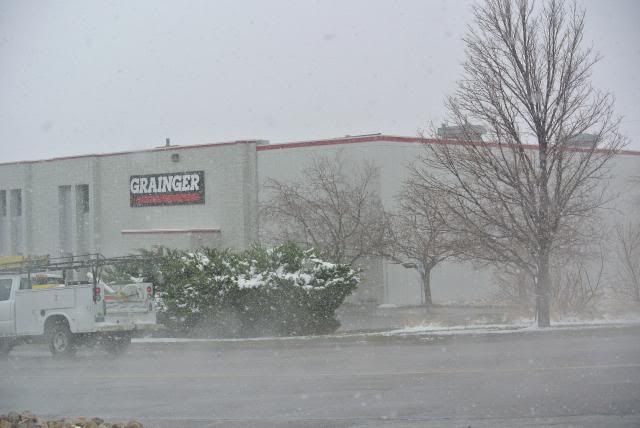 May 2 - Casper, Wyoming to Billings, Montana
We woke up in Casper, Wyoming for the second morning in a row and the snow had quit coming down. The sun was shining brightly and not a cloud in the sky. There were still remnants of the snowfall but nothing to be alarmed about so we packed up our trailer and off we went. Today's destination was Billings, Montana. Today's weather made up for the past couple of days and it was an absolutely gorgeous day to ride. The temperatures started out cold and it was in the mid 60s when we arrived in Billings. We checked into our motel, ate some supper and then relaxed the rest of the evening.
May 3 - Billings, Montana to Great Falls, Montana
There were no surprises of snow overnight, thank goodness, so we loaded up and headed towards Great Falls, Montana. We had another picture perfect day to ride. While riding we came across a historical marker about Chief Joseph. Donnis captured a good picture of it and I thought it was interesting and thought y'all might enjoy it too.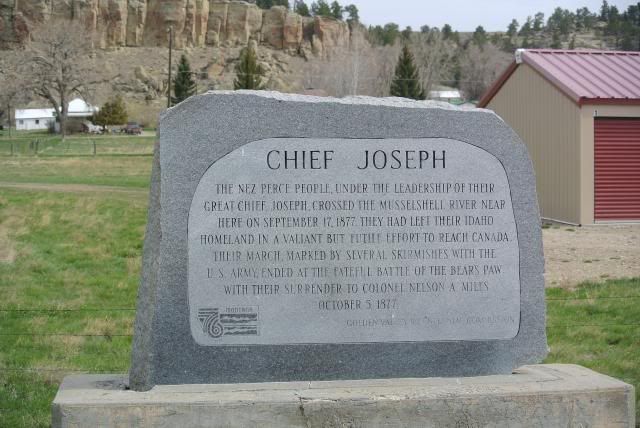 This was not a long distance to travel today but we were ready for an easier day and knew the next one would be a long one. We arrived in Great Falls and took it easy the rest of the evening.
May 4 - Great Falls, Montana to Calgary, Alberta
It looked to be another good day weatherwise and it was. We were going to ride to Calgary, Alberta today. We had a room booked already so we were on our way. The weather continued to be nice and riding was a pleasure. We reached the border between the United States and Canada. There was a back up on the freeway waiting to get through customs. We were glad the weather had held out and the temperature was in the 60s so sitting still on the freeway on a motorcycle wasn't unpleasant at all. We arrived there at 12:37 p.m. Donnis made a point to notice the time to see how long it would take.
Two years ago we crossed the border between Minnesota and Canada and there was no line at all. They searched the inside of our trailer, top, bottom and sideways, examining every single piece that was in there and every saddlebag and cubbyhole on the Goldwing.
This time was DIFFERENT. I guess it was due to the backup of traffic. Exactly 45 minutes later, at 1:22 p.m., we had inched our way up to the customs gate. A mannerly customs agent asked to see our passports, if we had alcohol, tobacco, or firearms aboard and how long our stay in Canada would be. We told him no to the alcohol, tobacco and firearms and that we would be in Canada about a week, on our way to Alaska, and then return back to Canada on our way home. Our passports must have looked ok and we must have answered his questions satisfactorily because he sent us on our way, didn't look at a single thing in our trailer at all. We were shocked but happy.
When you cross the border, prices on everything at least double in cost and gasoline about quadruples. You just know this in advance and don't have to like it, but nothing you can help. As soon as we crossed the border our GPS decided to go crazy. If anyone knows my husband, he has spares of everything. He had brought 2 of our older GPS's along just in case. Lucky us! NOT!! We tried both of them and they didn't like Canada either. Donnis was not a happy camper because all of them were supposed to be for North America of which Canada is included and our newest one had a lifetime update on it. We are totally GPS dependent after several years of using them. We had a road atlas with us and paper maps but we were suddenly struck stupid with trying to use them.
We hadn't been to this part of Canada before and were totally unfamiliar. The road signs look different, its no longer in miles but in kilometers, and everything looks strange to us. We finally made our way to Lethbridge, Alberta. We had noticed before we crossed the border that town is one we would be going through to get to Calgary. We couldn't find a sign anywhere that said where to turn for Calgary. We pulled into a parking lot and started getting out our atlas when 3 young guys, I would say in their early 20's, came out to their vehicle and Donnis (who never asks for directions) asked these 3 fellows where we needed to go to get to Calgary. This totally restored my faith in young people being kind and considerate. They were more than willing to help us. One of them got out his smart phone and brought up a map and he showed Donnis the route he needed to take. We were close by where we needed to turn off. We thanked them and were on our way. We then began to see signs telling us how many kilometers it was to Calgary. We made it there and its a HUGE city.
Ok so on to our next problem for today. We had a room booked but had NO clue how to find where it was since we couldn't type in the address in our GPS and have it lead us to it. I knew the address but that doesn't help when you don't know where it is. We ran around the outskirts of Calgary for about an hour, lost as geese, and I saw a sign that said Barrow Trail. THAT was the name of the street our motel was on, but hold your horses here. We traveled down the road for what seemed like an eternity and we were not seeing anything that was helpful. We pulled up to a traffic signal and the light was red. A fellow in a white pickup in the lane next to us motioned at us and said he absolutely loved our cargo trailer and if it also had a popup tent in it. We told him yes and he was shocked that you could pull that behind a bike. You're probably asking yourself while reading this if we have a tent and trailer why we aren't camping. Well we hate camping but figured there might be some obscure places in Alaska that had no place and we would have a Plan B.
Now back to the guy in the white truck. Donnis again asked for directions! Two times in the same day. There's hope for my guy yet. Donnis told the guy we needed the Super 8 Motel at 3030 Barrow Trail NE and we couldn't find it. The fellow said two words: "Follow me." So we did. For 23 miles we followed him. And he led us directly to the motel parking lot. Barrow Trail is on both sides of town and completely stops and take up on the other side of a freeway. We would never have figured it out without his help. Talk about kind and considerate, that was above and beyond if you ask me. We visited with him for about 30 minutes in the parking lot and kept thanking him profusely. He said he was more than happy to help lost strangers. So our first impressions of Canadians was superb. The 3 kids from earlier and this guy were absolutely helpful and we really appreciated them. We got all of their email addresses and handed them our business cards so we can keep in contact.
We spent the night in Calgary, Alberta.
May 5 - Calgary, Albert to Whitecourt, Alberta
When we woke up this morning we were clueless as to how we were going to find Whitecourt without a GPS. We knew we were headed through Edmonton, Alberta to get there and we saw a sign outside our motel showing the way there so off we went and made it to Edmonton by 1 p.m.
Shortly after arriving in Edmonton, a gentleman motioned to us that we had no trailer brake lights or turn signals. We thanked him and pulled into a parking lot of an abandoned store to check it out. Donnis first checked the connections and his soldering job he had done when wiring the rack to the trailer. All of that looked ok so he removed the cover on the Goldwing where the fuses were and found that a fuse had burned. He looked in the cargo bay of the trailer to find the fuses and replaced the burned one. The lights came back on instantly. He turned them off and on several times to see if the fuse was going to blow again because he didn't know why it had in the first place, but after several tries to lights stayed on and appeared to once again be working properly.
Also by this time, Donnis and I were both totally aggravated by the GPS situation and since there was a Wal-Mart in the same lot where we were, he went in and found a Garmin (to him there is no other brand of GPS) that said it had mapping for USA, Canada, and Mexico. He decided on that one. He made a deal with one of the workers in the electronics department that he only wanted to buy it if it would fit either of the RAM mounts that we have for our other GPS's. A RAM mount is a specialized mounting device used on motorcycles to mount cameras, GPS's, or whatever. The worker went to check with his manager and she told him to tell us we would have to buy it, try it in the RAM mount and if it didn't fit, to come back in to Customer Service and they would be more than happy to take it back and remit charges back to us. This was agreeable to us and them and that's what we did or tried to do.
Then came another calamity of errors. I hope all who read this, are finding some comic relief in the story, because I can look back on it now and laugh.
First off, our Visa was denied. We couldn't imagine why. We pay the total balance off each month. The clerk kept trying and Donnis kept trying to scan it. No such luck. We had cash with us, but Donnis wasn't ready to use that yet, and besides, on this card he gets a percentage back for his purchases and that's a definite plus for him. I didn't really care what it took as long as we had a GPS that worked. So he gave the new GPS, still in box, back to the clerk.
We went outside to the bike. While out there deciding what to do, a couple walked up and saw our Texas license plates and couldn't imagine anyone riding from Texas to Edmonton on a bike. They asked if all was ok and Donnis mentioned about our Visa card. The lady asked if our credit card company knew we were traveling and had we notified them. No and No. Now to me, I think they should have known, because we use it to buy everything because of the percentage on purchases that we get back, and we had used it exclusively since April 27. They were keeping tabs on it from purchases made in Texas, New Mexico, Colorado, Wyoming, and Montana. There wasn't a problem with it until we reached Canada or so we thought. I had booked the room in Calgary through Expedia so that was paid online and not dealt with in Canada.
So this was the first purchase we had tried to make with it and it was denied. The lady told us to call the number on the back of the card and let them know we were traveling and see if that might be the problem. The roaming charges, even if you make NO calls, are exorbitant so we had turned both our cell phones off. Donnis went back inside and let the manager of Wal-Mart make the call and Donnis spoke to the Visa representative. They said they had red-flagged the card because they thought it had been stolen. We had been on a Bahama Cruise with our son, his wife and 3 grandchildren the week before we left for Alaska and had used it there too. Now it was being used in Canada and they were suspect. I appreciate them being diligent about that and sorry that we hadn't alerted them about our travels but we didn't know to do that and had never done it previously.
So back to the electronics department to get the aforementioned GPS that covers Canada, as well as USA and Mexico. The purchase went without a hitch. Donnis promptly opened the box in front of them to see if it would fit either of the RAM mounts that he had brought inside and, as you have guessed by now, it didn't. It was bigger. One of the mounts was 5 inches and the wording on the box of the new GPS said it was 5 inches but it wouldn't fit inside the mount. The new GPS comes with a mount, the kind you stick on a car windshield. They work great in a car, but not on a motorcycle. You cannot leave the mount on the windshield of a motorcycle or it will get stolen and sticking it and unsticking it from the windshield, after so many times, makes it where it will no longer stay, thus the need for RAM mounts. But, by this time, we both wanted a functioning GPS in Canada bad enough that Donnis decided to keep the new one and use the 'rinky-dinky' mount that comes with it.
Now you probably think the calamity of errors is over with and if so, you're mistaken. We take the GPS outside and mount it on the windshield. Check. It comes on. Check ... er.. umm yes it comes on just fine but the language is in Arabic or some such with funny little symbols. You can't use the menu to change the language because you can't read Arabic to find the English on there so back in we went and the clerk that made the sale worked with it for a bit and finally got it to English mode and all was well or so we thought. Yes, there's more. We went back out, mounted it again, turned it on. English this time. Bravo! But not so fast. We decided to do a search to find a store and we were able to navigate to the search function and it brought up the keyboard to type what we were looking for. Have you guessed yet? The keyboard letters are also in Arabic. Back in we go again. It's getting embarrassing but we are not that technical to start with and didn't know how to fix our problem. We went back to the same girl and she laughed. She said she didn't know why a GPS sold in a non-Arabic country comes with Arabic as default. It took her longer this time to find how to change the keyboard to English alphabet but she figured it out and we were out the door of the store again. This time we stayed out and so far we haven't found any more Arabic on it. (I don't say this to be derogatory of Arabic people, it's just that we don't know their language or alphabet and the GPS was useless to us unless this could be changed and we knew it could, we just didn't know how.)
We spent right at 2 hours at Wal-Mart and had almost decided to just spend the night in Edmonton, but got our second wind and decided since we had a new GPS that recognized Canada that we would have no problems finding Mayerthorpe and we didn't but Mayerthorpe had no lodging so we chose the next bigger town of Whitecourt, Alberta. We arrived safe and sound, with a new, functioning GPS and found a motel room.
May 6 - Whitecourt, Alberta to Dawson Creek, British Columbia
This was going to be an exciting day because its the day we will start down the Al-Can Highway.
We rode through a town, Grande Prairie, Alberta and saw our first sign that said Alaska. We were still almost 2000 miles away from Alaska, but I wanted Donnis to take a picture of it.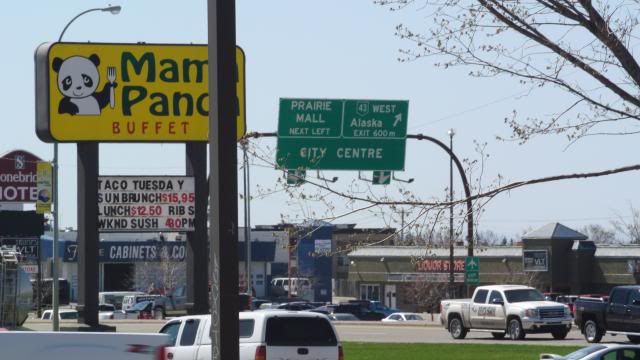 We passed through a town called Beaverlodge. The largest beaver in the world is situated in the town of Beaverlodge, Alberta. It sits alongside the Alaska Highway. The beaver is 15 feet tall, 18 feet long, and sits atop a 20 foot long log. The sculpture is made of concrete and weighs 3000 pounds. The colour of the largest beaver is brown. The huge beaver was built in 2004. It was made to help celebrate the town's 75th Anniversary. A double-sided sign stands next to the beaver that shows the information including the history of the town, the Beaver sculpture, and habitat information for wild beavers.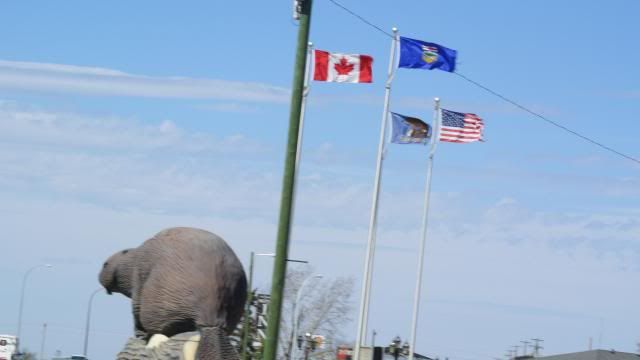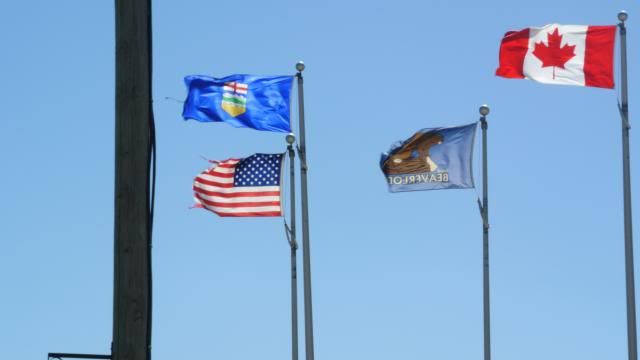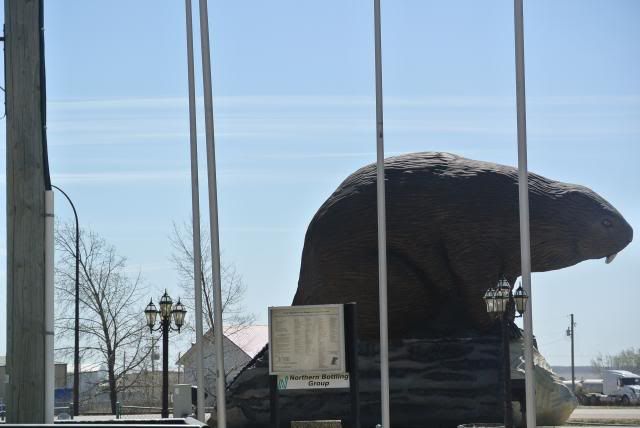 The weather gods are being good to us again. It's still cool but the sun is shining.
It was Destination Dawson Creek, British Columbia Day. This was one of the highlights because Dawson Creek is where the official start of the Al-Can Highway begins at Milepost 0. Any mileages you see in these pictures are in kilometers, not miles.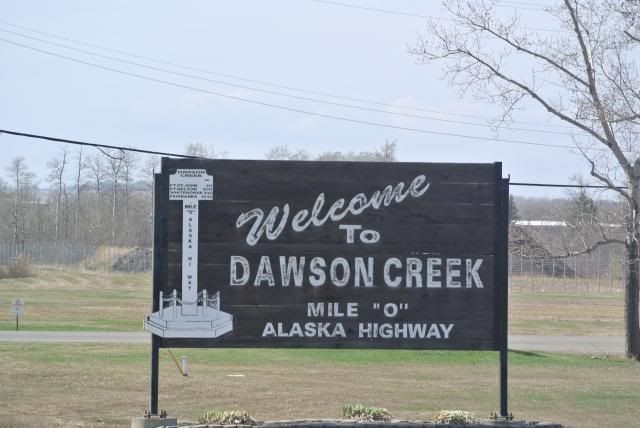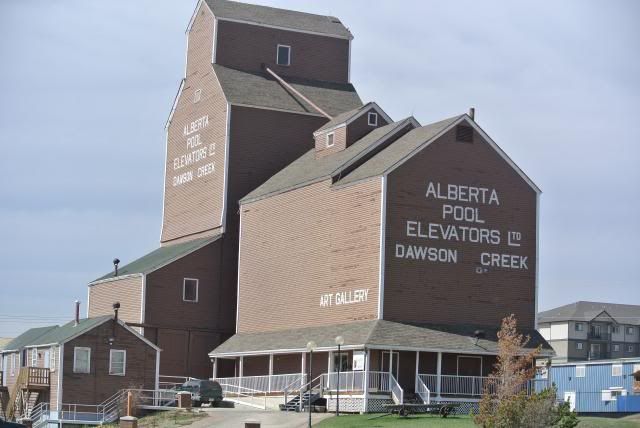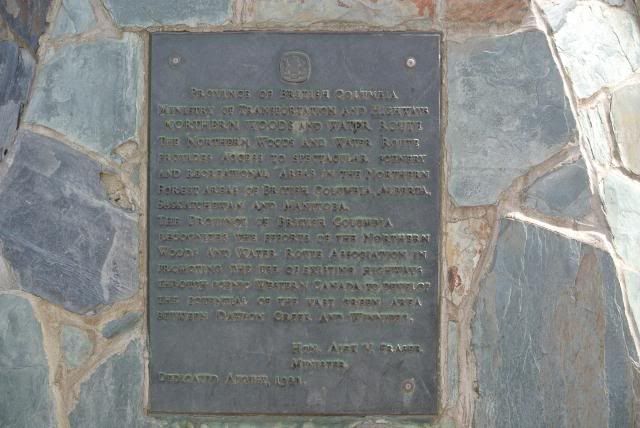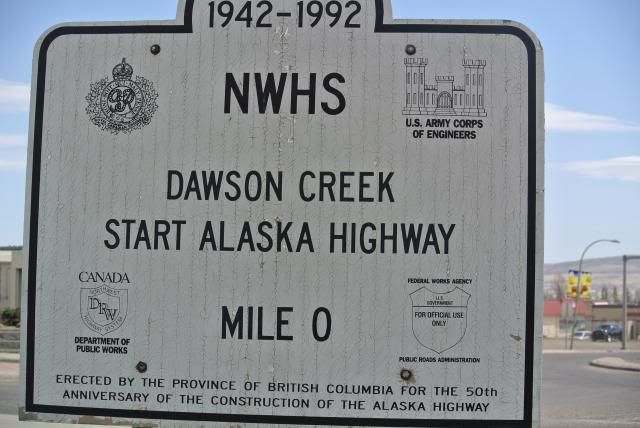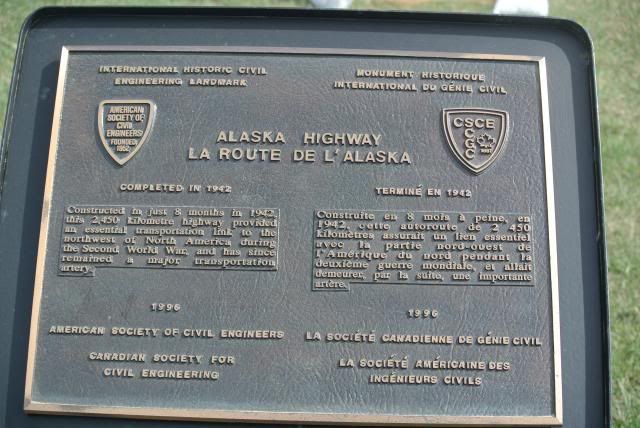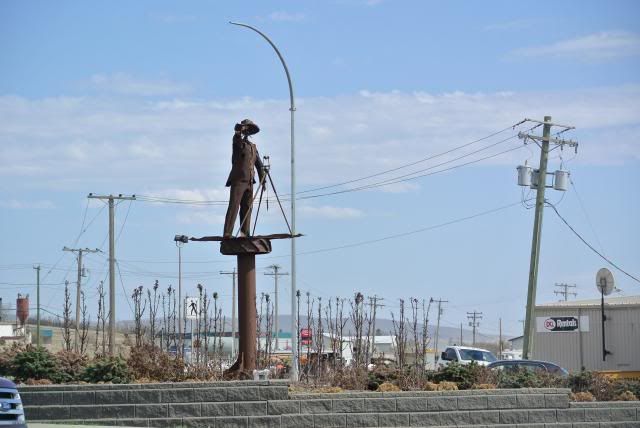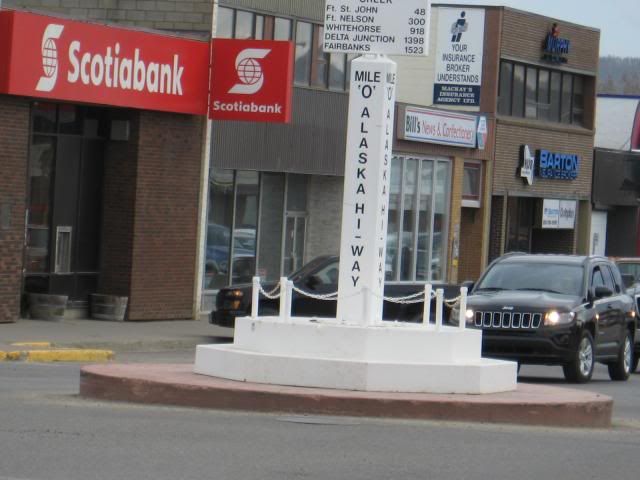 We arrived safely in Dawson Creek, British Columbia. Later Donnis decided he would fill up with gas then instead of waiting until morning. He also decided to unhook the trailer to go do that. I was tired and being lazy and stayed in the motel room. He unhooked and went and got fuel and when he returned, while hooking the trailer back up, he had a bird's eye view of the trailer tires. He knew they had a few miles on them but had determined before we left that they would make it but he had second thoughts now. He called me out to come look and help him make the decision. Well, unless the tire has no tread left at all, I can't tell if it's bad or not. He surmised that they were going to be toast before long so off he went again with the trailer hooked back up.
Wal-Mart generally ALWAYS have these tires and generally they are mounted on the wheels already. That was his hope. He had seen a Wal-Mart on our way to the room so he went there and they didn't have what he needed. Donnis is diligent about things, especially on motorcycle trips. Things can go wrong and he tries hard for that not to happen, thus why hauling extra tires for the bike and a spare gas can. He was concerned about the trailer tires now and on the way to Wal-Mart he had seen a Canadian Tire store and decided to try there. They had exactly what he needed. He was only going to buy 1 and use the new spare underneath the trailer for the other tire. He took the tire that was already mounted on the wheel to the counter and it rang up lower than the price marked, so he decided to get 2 instead of 1. He got back to the motel room with the 2 new tires and wheels and took the 2 worn out ones off, put the 2 new ones on and didn't have to turn the trailer on its end to dismount the new spare underneath. We were good to go on the trailer tires again.
May 7 - Dawson Creek, British Columbia to Fort Nelson, British Columbia
It started out a very cold day today. It was still freezing when we left but time was ticking and we wanted to make 300 miles today. It was the first 300 miles on the Al-Can Highway and we were unsure of exactly how good or bad the road was going to be. We had heard stories from others about it and we weren't sure how long it might take to make that 300 so off we went. There were a few holes and rough spots, but all in all, we were pleasantly surprised at the condition of the road. We have ridden on worse in the states than this has been so far. Here are a few pictures of what we saw along the way.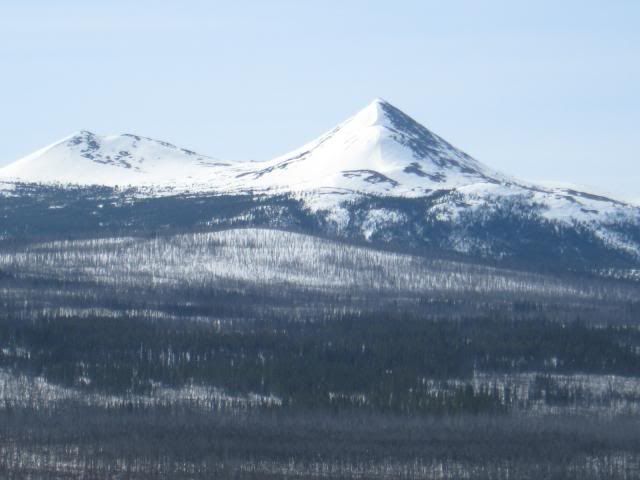 We also saw a she-moose. She was at the road's edge but there wasn't a good place to stop and get a good picture of her. I wish we could have but it wasn't possible. We arrived in Fort Nelson about 3:00 p.m. It was an upstairs room and my knees are bad but the manager of the motel helped us get our luggage upstairs (no elevator) and we rested for awhile. Donnis fell asleep and that is when I decided to start on this diary of events before I forgot what days we went where.
I woke Donnis up around 6:45 p.m. and we went to eat supper at a place that the manager of this motel recommended. It was about a block away so we opted to walk. The manager said the food was good and the prices were good. We found neither to be true. It was truly one of the worst tasting meals I have had in a very long time. It was awful and sky high prices. It was a waste of time, money and tastebuds. There are a lot of oilfield jobs up here and I guess they are not as picky of eaters as we are. When we checked in here at this motel, we were told the breakfast in the morning was top notch. Someone makes homemade muffins and hot eggs and bacon sandwiches, which sounds yummy BUT since the manager said the food was good at the restaurant he recommended I am starting to have doubts how good breakfast will be. The breakfast ended up being better than supper the night before but we would both class it as mediocre.
Our goal tomorrow is 330 miles which is a bit more than we would like but we chose it because its the next place that's large enough for a motel.
May 8 - Fort Nelson, British Columbia to Watson Lake, Yukon Territory
Today is when we leave British Columbia and enter into the Yukon Territory. Canada has 10 provinces and 3 Territories. This trip we have been to Alberta, British Columbia and now Yukon Territory. It was a lot of miles to make on the Al-Can Highway but we made it. There was splendid scenery such as snow capped mountains and frozen lakes.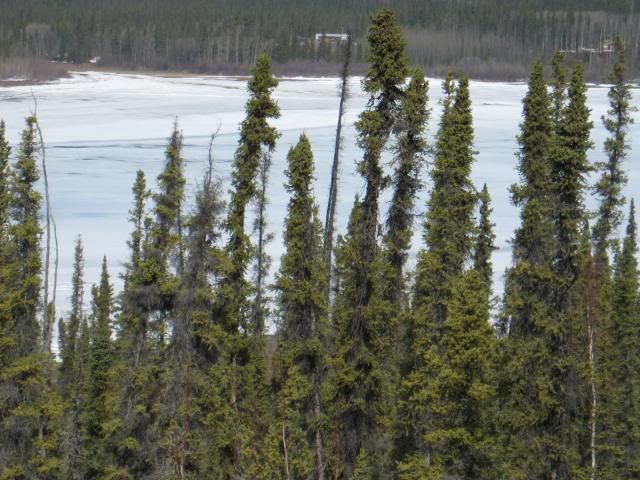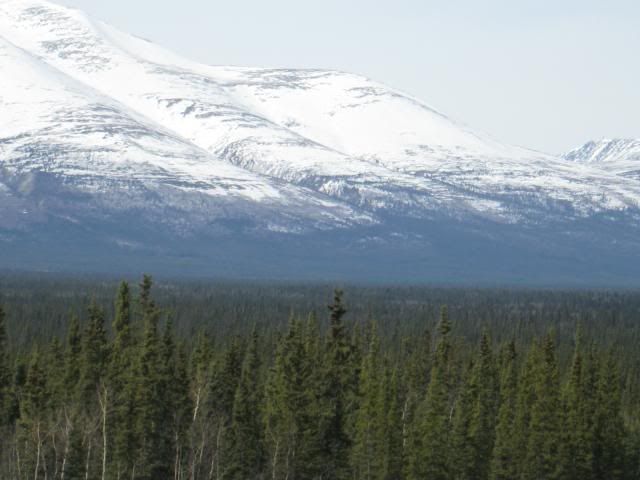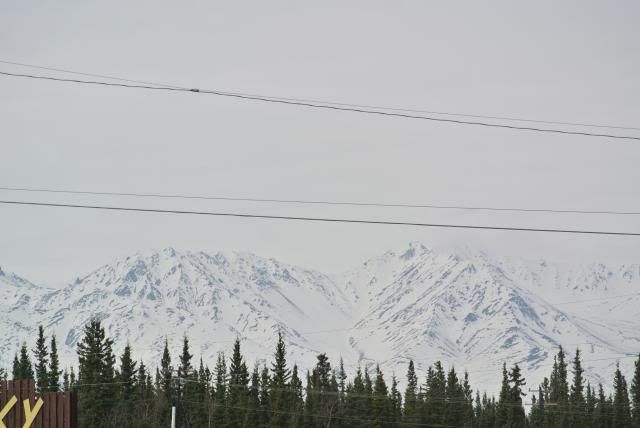 We saw bison and their babies and some caribou.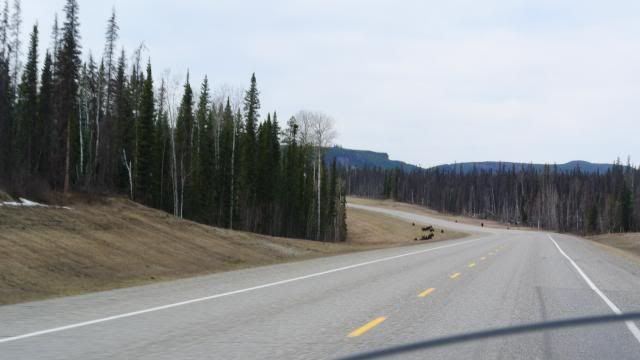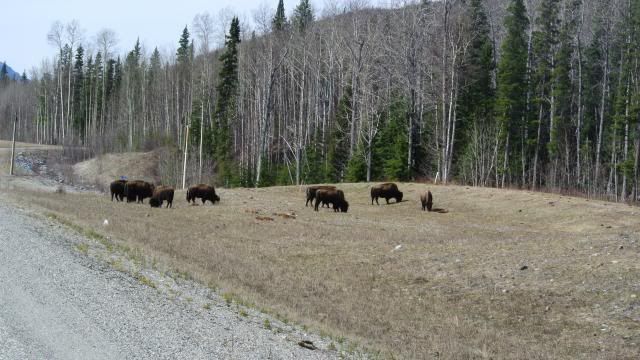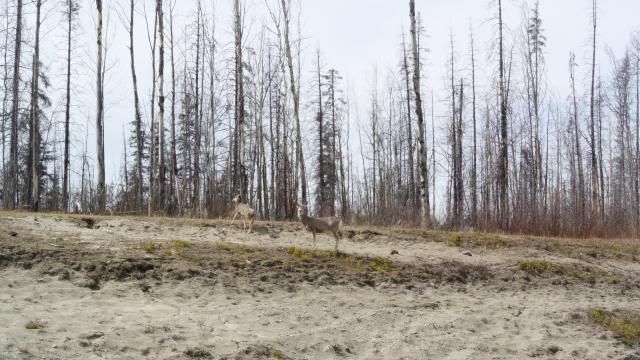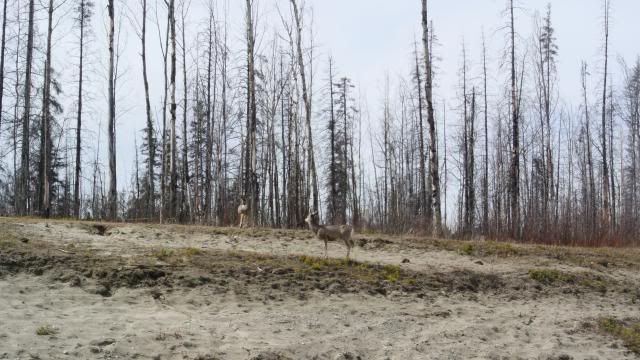 We saw a bighorn sheep but it was in the road and we had to drive around it and there was no way to get a picture of it.
It was a good day, a tad cold, but good riding. We stayed at a quaint place called the Airforce Lodge Inn run by a very nice German fellow. It's set up barracks style. There was a kitchen table in the main room where you could meet the fellow occupants and we had a great time visiting with them.
The most noteworthy thing about Watson Lake is their Sign Post Forest. Here are a few pictures of it.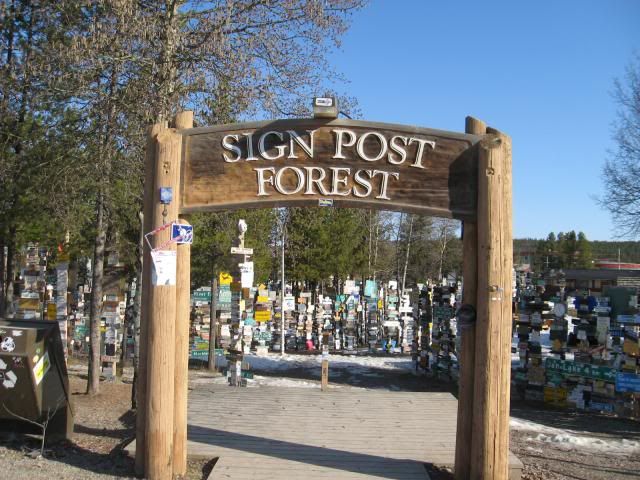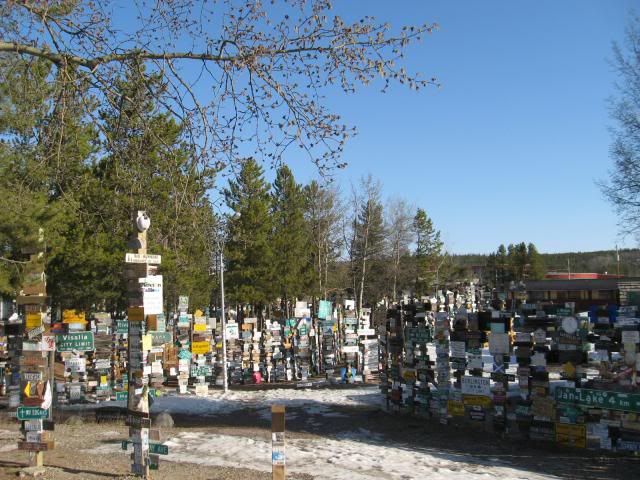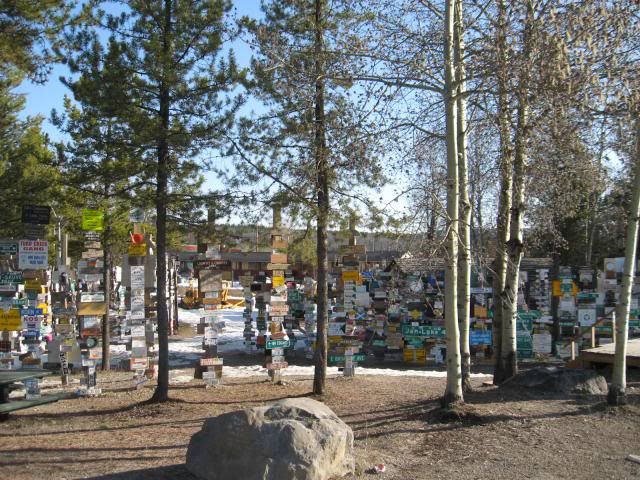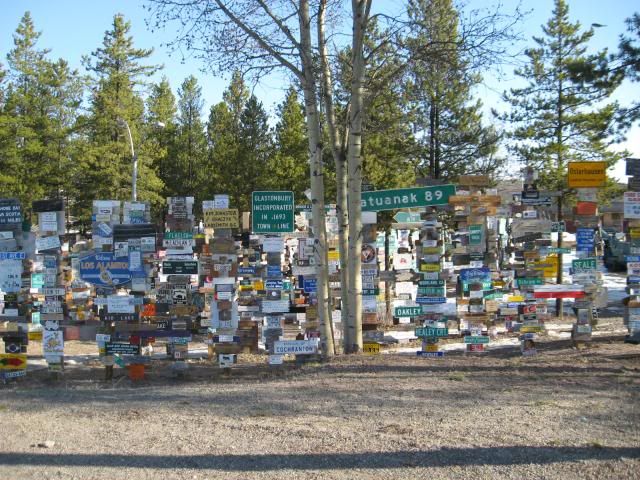 It's interesting and I wish we had made a sign of Livingston, Texas to post there. People that have come through Watson Lake have posted their hometown signs and some even 'stole' actual highway signs near their cities and posted them as you can see from our pictures above. Here is the url for the history of the Sign Post Forest. http://www.watsonlake.ca/our-community/sign-post-forest/
May 9 - Watson Lake, Yukon Territory to Whitehorse, Yukon Territory
Whitehorse is the capital of the Yukon Territory. This was a nice ride and beautiful scenery. Everything was still frozen here, the mountaintops covered with snow and the lakes and rivers were frozen. Its gorgeous and we saw lots of wildlife as well.
We came to the town of Teslin, Yukon Territory. It had a really neat bridge and the town was quaint and friendly. Notice that this river is still frozen.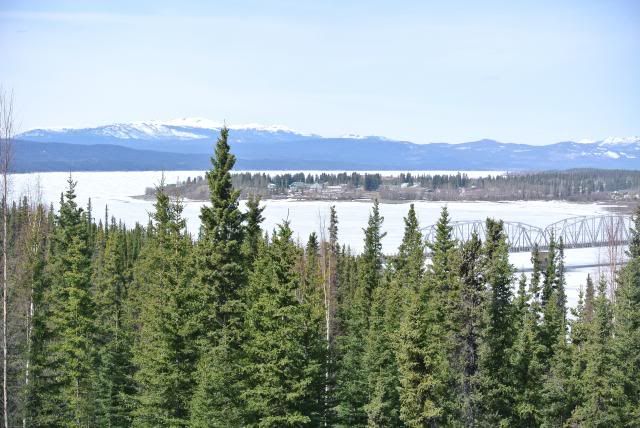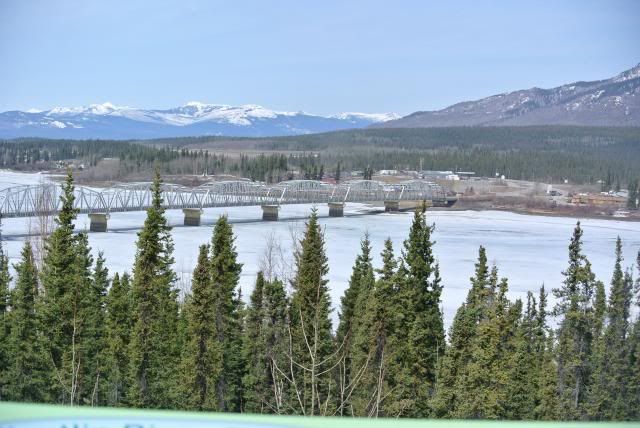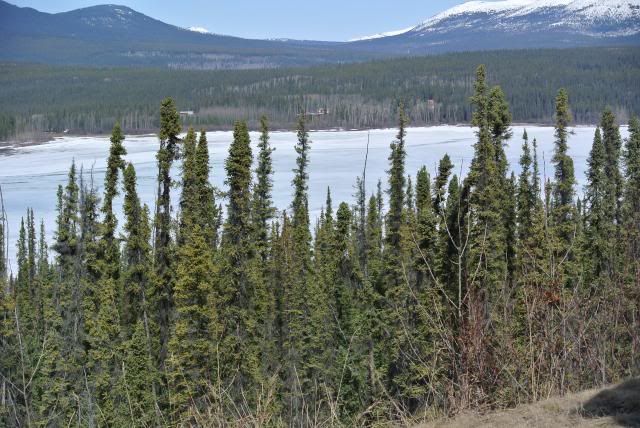 It was lunch time and we found a restaurant across the bridge you just saw in the pictures above. It was a cold day and their soup of the day was homemade potato bacon soup and it just hit the spot. Donnis ordered a grilled cheese and ham sandwich with his and I got a plain grilled cheese to go with my soup.
We still had a ways to go to get to Whitehorse. Here are a few more pictures along the way.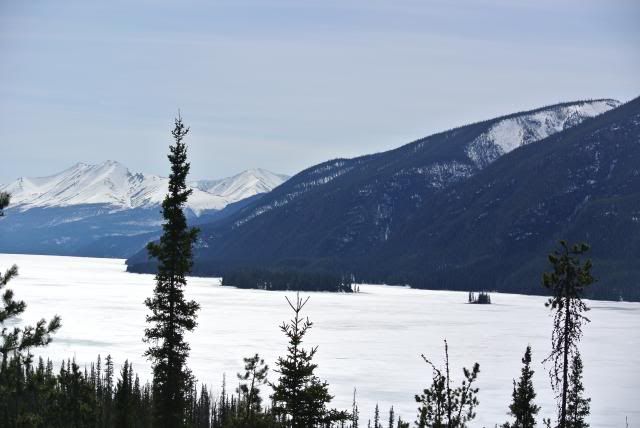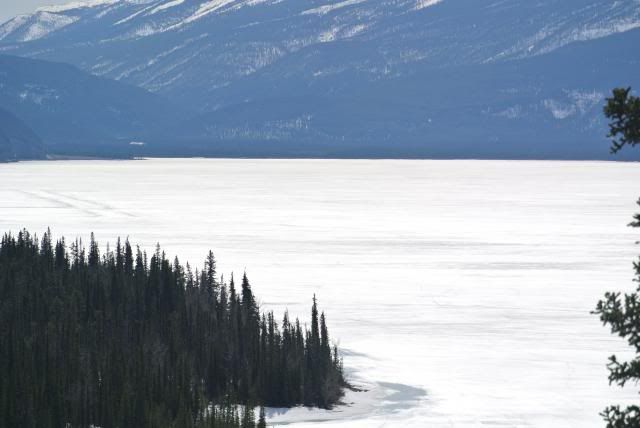 The trailer had been fishtailing if Donnis got above 50 miles per hour and it made it hard to hold the bike up. We stopped and rearranged the contents of the trailer and put all the heavy stuff in the front to add weight to the tongue. There is an ice chest filled with sodas and ice but it wasn't enough weight to countermand the new rack on the back with the 2 tires and wheels and the 5 gallon gas can that was now full. The gas can alone filled with fuel weighs 40 lbs. Donnis decided to move the gas can from the rack to the top of the ice chest. He used bungee cords. He was hoping that would do the trick. While it looked funny, it did indeed take care of the fishtailing problem.
May 10 - Whitehorse, Yukon Territory to Beaver Creek, Yukon Territory
We were making our way to Beaver Creek and saw some sights that needed to be photographed. Donnis pulled over to the shoulder of the road and turned on his flashers so folks passing by could see him. He snapped the pictures and tried and tried, over and over to turn his flashers off. The switch stuck in the "on mode." Try as he might, the switch would not turn off. At least we were still able to go down the road but with flashers on, which meant we had no brake lights or turn signals. We rode down the road a few miles to find a better place to pull over and fix the problem.
We found a rest area and he first decided to try and just disable the flashers by removing a fuse but the fuse that controlled that also controlled the brake lights and turn signals so he was going to have to take the bike apart to disable the switch. He then needed a phillips head screwdriver and while he brought a lot of tools with him, for some reason there wasn't that kind of screwdriver in there so he used a pair of tweezers to undo the screws on the panel where the switch was. It took some doing but he got the panel off and beat the backside of the on switch for a bit thinking that might unstick it but it didn't. He took the switch apart and a little spring that makes it work, fell either down in the bike or on the ground, although we didn't see it on the ground. But at least the switch was now disabled and he tested the brake lights and turn signals and they were still in working order, so we were good to go and the flashers were not a necessity. The Goldwing still has extended warranty left and flashers are covered under that.
We still had a ways to go to get to our location for the night so we were making our way down the Al-Can Highway. The Al-Can Highway has been better than we expected it to be. It has some rough places, but all in all its been doable for us on the motorcycle. We saw many more mountains and miles and miles of frozen rivers and lakes but it was beautiful.
We crossed the Yukon River yesterday on this blue bridge. When we did, Donnis started singing "North to Alaska" by Johnny Horton. In that song it mentions the Yukon River. Donnis loves bridges and he took several pictures of this one.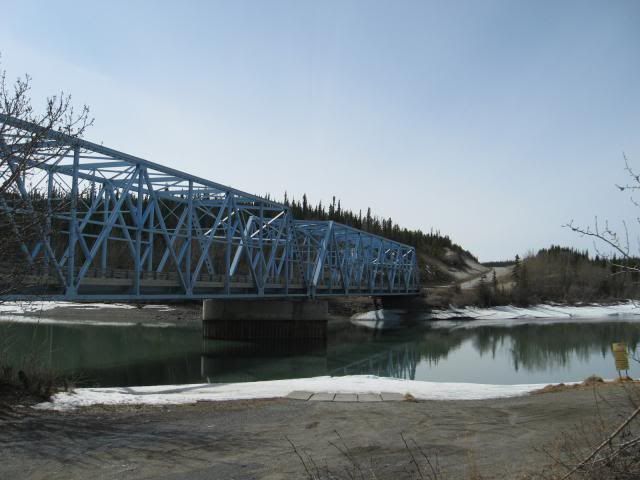 Beaver Creek is a small...hmm...community I suppose. It has the Al-Can Highway running through it, 3 motels, 2 gas stations and 1 restaurant. We stayed in a small room that was attached to a gas station and convenience store. There were several other rooms in the back. Our room was small but adequate and looked like a little log cabin. The only drawback to this room was the flooring in the shower. It was really unsafe, but rooms were scarce here and we had a place to sleep, that was warm and dry and I had my internet.
May 11 - Beaver Creek, Yukon Territory to Tok, Alaska
We woke up today and knew it was THE DAY. The day that we would reach Alaska and that we did. Getting through customs was no problem at all. When we left Livingston on April 27 we had thought it would take 2 weeks to get to Alaska and today was exactly 2 weeks. If we hadn't spent an extra night in Casper, due to the snow, we would have made it there in 13 days.
We were about to leave the Yukon Territory. Alaska was ahead!!
These pictures are self explanatory.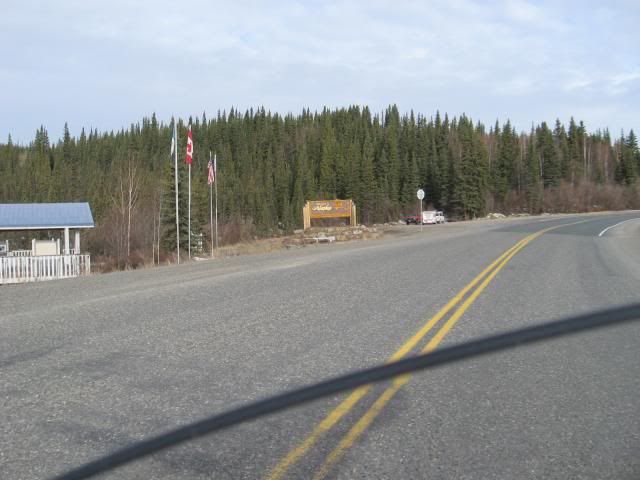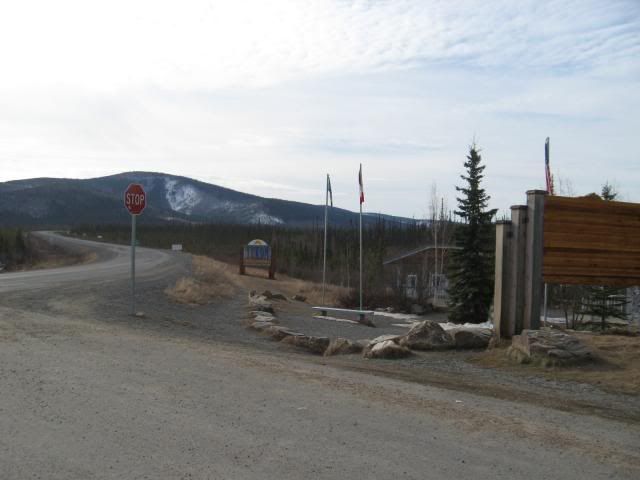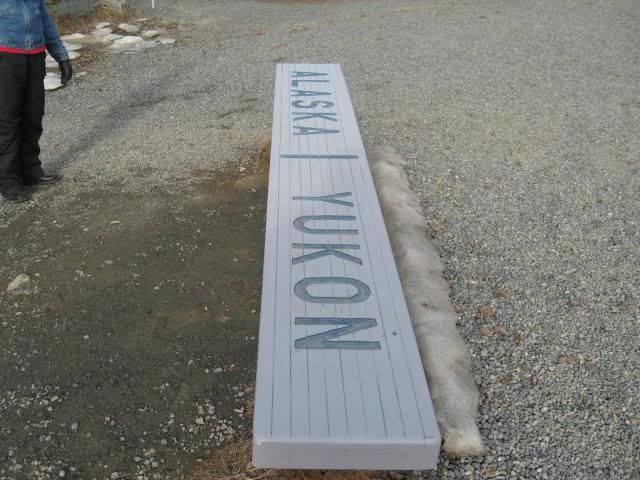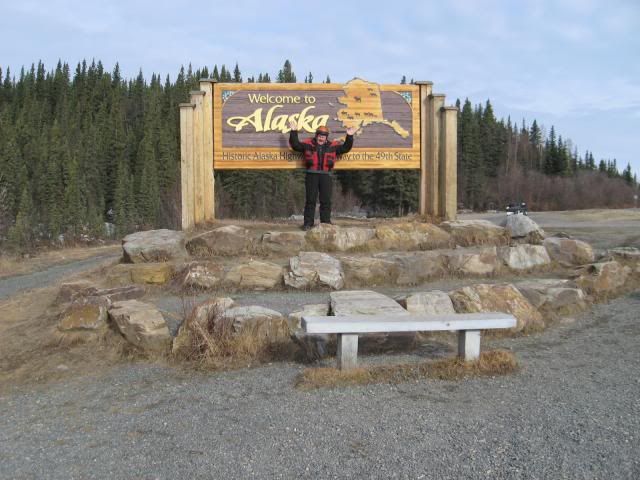 We have been riding for 8 hours a day for the past 3 or 4 days and decided to make it a shorter day today. We were headed to Tok, Alaska which was only 116 miles, but it was a Saturday, and we had been unable to make reservations online for tonight anywhere and we were afraid that everything would be booked up so we had said when we got to Tok we would look at lodging. I had seen a Young's Motel online but there wasn't a way to make reservations online for this place and when we arrived they looked nice and I already knew the price was reasonable and there was a double bonus, well actually more than that. The first one was there was availability, the second was they have a nice restaurant as well where we don't have to get back on the bike and hunt for something and the third (you've guessed it by now) was internet.
We gained an hour today. Alaska is 3 hours behind Livingston. So it was 11 a.m. when we arrived here and yes, we are taking a rest from the 8 hour riding days we have been doing. We have a great room, a place to eat, a place to rest and a place that has internet.
Tok has no taxes at all. Its called an unincorporated borough with no governing body. Its small and we are just on the outskirts, so I don't really know what all it has.
We stayed in Room 13 -- Lucky for us because there was vacancy and warmth. Here are pictures of where we stayed and the surrounding area in Tok.